I'm linking up with Heidi at Droppin' Knowledge
for a blog talk on the newest Whole Brain Teaching (WBT) book!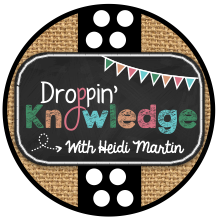 Have you seen it? Do you have it? You need it!!! Heidi and I are WBT teachers (a.k.a Wibbiteers) and we couldn't wait to dive into the book together and share it with you!
You can link to Heidi's socials:
Droppin Knowledge – Whole Brain Teaching Facebook Page
Twitter – find her @WBT_HeidiMartin (she will be using Twitter during the conference to ask and answer questions!)
And through all of these, you can find us at #2015WBT #WBT1st or just simply #WBT
Chapter 1–Whole Brain Teaching overview
For anyone who doesn't know about WBT, Chris Biffle ("Coach B") is the Director of Whole Brain Teachers of America. Since 1967, he's been teaching and/or closely involved with the education of "littles" to college level. He led a 300 mile march against education funding cuts in 2004, received federal grants, served on a major project at Harvard, and lead presenter of over 100 WBT conferences. If you ever get the chance to see him in person, you will never forget it. I met him at Walsh University in Canton, Ohio a few years ago. During the two-day conference I learned so much and was exhausted every day because I was participating in what WBT is: direct interactive instruction (DUI) and collaborative learning–having fun talking, moving and learning the whole time! That's right. I think the audience talked and moved more than Coach B did!!! That's probably not true, but it felt that way. It was the most engaging experience I'd ever had in any learning environment!



Chapter 2–The Big Seven
This chapter focuses on maintaining student attention, engagement and motivation: class-yes, mirror-words, scoreboard, class rules, teach-okay, switch and hands and eyes. All of these are in the first WBT book Whole Brain Teaching for Challenging Kids.


Heidi shared the details about chapter 2 in 122 Amazing Games on her blog but if you want more check out the other book above.
For me, the most amazing part of chapter 2 was the new rule! Rule #6! The Diamond Rule! This rule is "keep your eyes on the target". This is a new rule added to the previous 5 rules. This rule helps those students who have to be redirected and refocused on the target, reminded of what the target is. I had one of those students two years ago. He was very impulsive and he had moving targets! This rule might have helped him. I used it this past year and loved it. The Diamond Rule really helps get students focused on learning within seconds.

Make sure to go to Heidi's blog to get her FREEBIE. Also, if you haven't joined the conversation at the Facebook group for this book study, click the image below to get there and join! We'd love to have you!
I will be posting on the next chapter later this week so stay tuned for that.
What are your thoughts about the first 2 chapters of the new book? Let us know in the comments below!